Twisted Monkey Racing (TMR) is an off road racing team from North Texas. What originally began in 2013 as an extension of Twisted Creations Off Road Shop, eventually became a full time pursuit of passion and performance. Twisted Monkey Racing officially entered their first competition at the 2014 Ultra4 King Of The Hammers in the 4400 Unlimited Class.
In 2015, Camburg Engineering constructed a 6100 Spec "Trophy Truck". TMR prepared the truck for competition and raced the 2017 Mint 400. In only their first desert race, they were able to finish 19th in class and 63rd overall In 2019, TMR began their last season in Ultra4 competition and shifted the primary focus to desert racing and committed full time to racing Best In The Desert's 6100 class With desert racing focused in the sights by the beginning of 2020, TMR added purpose built 1973 F-100 off road prerunner truck built by Tribe 16. This street legal off road truck will race in the NORRA Mexican 1000 Rally and be used as a team support vehicle during other desert races. The next evolution of Twisted Monkey Racing will reveal an all new Camburg Engineering AWD Trophy Truck prepared for competition in 2021. This new state-of-the-art platform will no doubt push the edge of technology and allow Twisted Monkey Racing to be on the cusp of off road racing performance.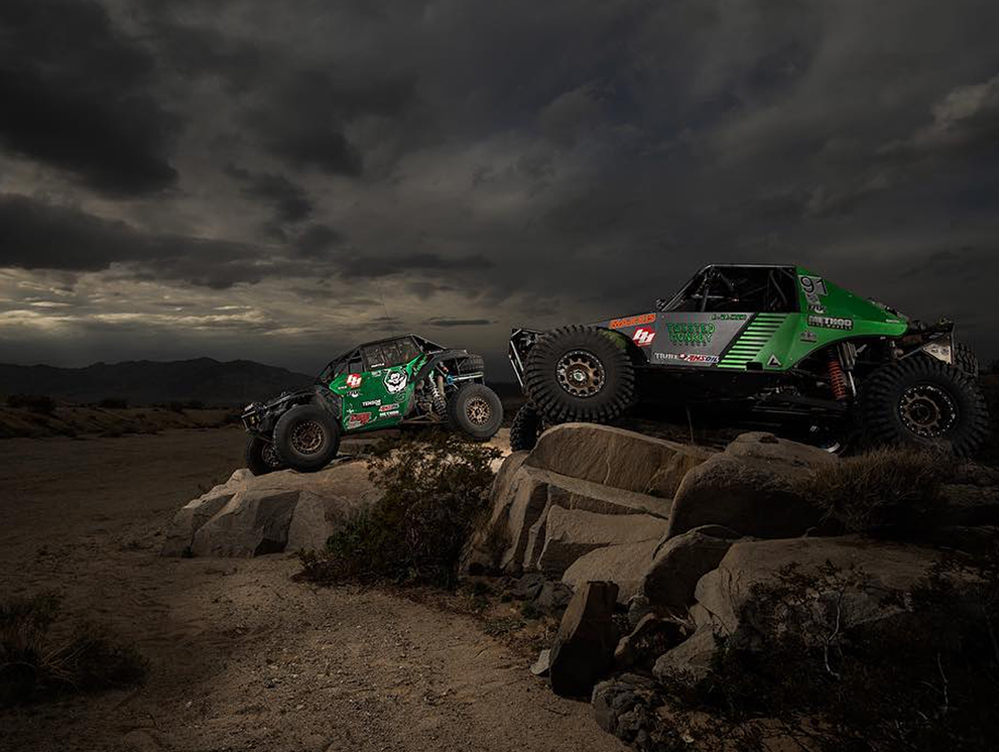 TEAM RACE RECORD
Twisted Monkey Racing is working its way to becoming a regular top finisher in the elite divisions of off road racing. In their short history, TMR has earned (1) Top 5 finish, (6) Top 10 finishes, and (11) Top 20 finishes. The consistency has progressed and Alex earned 9th overall in the 2019 Ultra4 4400 championship.
Other notable accolades include 84th overall at the 2018 Mint 400 in the Ultra4 4400 Buggy.
OTHER ACCOLADES
Twisted Monkey Racing was featured on the YouTube Channel; Hoonigan Autofocus with Larry Chen highlighting the team's purpose built 1973 F-100 truck built by Tribe 16. The video posted on March 1, 2020 currently has 217,171 views and over 300 comments Possibly the most notable and viral sensation attributed to TMR has got to be a video seen by millions around the world of Alex Wacker jumping his Ford Raptor to flat in a crazy stunt.